Posts tagged
James Franco
0
Spring Breakers features Brit, Candy, Cotty and Faith, who are all college girls looking for adventure away from their college dorms. In an audacious attempt to try and fund their spring break vacation in Florida, they land themselves in jail after attempting an armed robbery on a local fast-food restaurant. However, they soon find themselves being bailed out by a drug and arms dealer called Alien in exchange for some dirty work that leads to a spring break they will never forget.
With a cast that boasts Vanessa Hudgens, Selena Gomez, Ashley Benson and Rachel Kroine and a marketing campaign that has seen them all in little more than their bikinis, don't be fooled into thinking that this is going to be another one of those summer teen movies. For this is a Harmony Korine movie. Known for his unconventional, non-linear, weird and often outrageous but refreshing filmmaking (Gummo 1997), ensures that there will be more than what first meets the eye in Spring Breakers. Certain to explore morals, pop culture, dreams, reality and religion and with an 18 certificate ensures that there is likely to be plenty of violence and exploitation making it certainly not one for the Disney crowd.
An impressive cast that seem to be looking to shake off that 'High School Musical' tag as well as James Franco cast as a class A corn-rowed drug dealer only makes the plot that much more mouth-watering. The cinematography appears to be drenched in a super cool neon pallet and with what is shaping up to be a blistering ultra slick soundtrack, I for one will be really looking forward to Spring Breakers.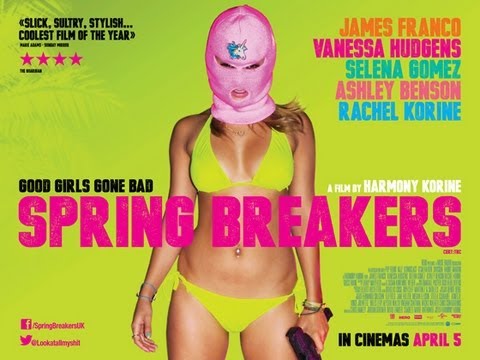 Due for release in the UK on 05/04/2013.